Post by oldchopperguy on Apr 27, 2018 0:22:34 GMT -5
Well, boyz n' gurlz...

Tuesday, I took "Minnie Mouse" to my dealer and had the new Shinko 140/70-12 P-rated rear whitewall installed!
John, the owner of Moxie Scooters was stuck working alone lacking his usual crew... So I did "floor duty" greeting customers and showing products... Doggone, THAT was actually fun! During the time, I learned a lot about the various scoots... Lance, Fly, Genuine, Stella, Kymco, SYM, and his new flagship line, VESPA.

I now have a vastly revised view of the pricey little spaghetti-burners...
I found the new 300cc fuel-injected Vespas to be a LOT more special than I had expected. Yes, they cost a tad over $7K but close inspection reveals that might not be out of line at all. As I head
(all to fast)
past seventy, I find my strength and agility waning considerably. Light weight and easy handling are meaning more to me each year.
The new Vespa uses the tried-and-true Vespa "monocoque" construction with no steel-tubing sub-frame.
The body is it. Period.
Nowadays it's made of aluminum and it is feather-light and super-stiff. No wobble, no flex, and you
(or me, or a small lady)
can lay a new 300 over on its side and pick it right back up like a bicycle... HHHMMMM...
THIS gets INTERESTING!
Not only does this construction make the bike easy to manhandle, but makes it go like stink... These new 300's seem a tad bigger and more substantial than past models and sport 12" wheels. Brakes, suspension and all the running-gear are high-end goodies.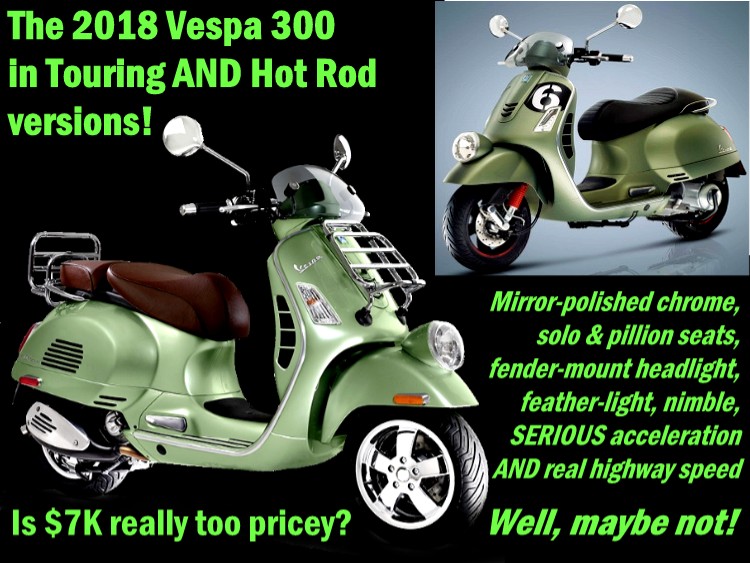 While many new 300's are heavier than my old Grandvista, and only a few mph faster... These Vespas are like rockets compared to most
(except for the other Italian makes)
. But it seems to be the unibody aluminum construction that makes the real difference.
Add to that the impeccable fit, finish and attention to detail and you pretty much have the "Ferrari" of scooters. The two pictured here are the touring and performance models, both paying cosmetic tribute to early Vespas of days gone by, with fender-mounted headlights, luggage racks, dual seats, etc. The touring version in brilliant gloss lacquer and the "Number 6" Sei Giorni" the same pale green but matte finish. The tourer features an irresistible solo-seat and passenger pillion, and both open together to expose the underseat pan. The luggage racks fore and aft fold neatly. The alloy wheels are TRUE mirror-polished and the entire package is simply first-class.

These scoots are high-quality, fast, nimble and easy to handle.
And at $7,000 they equate to $700 in the 1950's...
Just what a Vespa cost back then.
I love my old Kymco and for me it's a good choice, but she's heavy, not all that quick and down the road, this lightweight and fast Vespa will look better and better...
If it's in your budget, I would recommend one!
About the time I might want one of these, a used one should be affordable!
My brief duty as salesman taught me a lot about the new scoots... AND, that many customers are more willing to shell out over $7K for the Vespa than $3,500 for something lesser.
It all depends on one's budget I guess!

My advice is to NOT test-ride one of these unless you're prepared to pony-up for one, OR be a little disappointed in your present ride... LOL!
Leo in
(finally riding on TWO factory whitewalls!)
Texas

PS: Oh, and, YES... These Vespas run 120/40-12 tires up front, and 130/70-12 on the rear... SOOOO... You COULD put the Shinko whitewalls on them for a true fifties look... HeHeHe...