Post by rockynv on Mar 31, 2017 21:12:32 GMT -5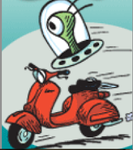 I today checked the local prices at the Brick and Mortor Chinese dealers in my area and many have given up on selling scooters over 50cc's however their middle of the road 50cc scooters (not even close to a Linhai) are about $1,500 plus State and Local fees and taxes while the Piaggio (not Vespa) 50cc bikes can be had for $1,799 or $299 more again plus the same State and Local fees and taxes. For what you get for the money if you ride more than a few thousand miles in you scootering lifetime the Piaggio if you shop around are a better deal.
Anyways I have enough proof since I have done what I have claimed with the bike being ridden thousands of miles a year and can do so again tomorrow. Yes you do have to be a regular at the dealerships to maintain the connections/relationships with people and occasionally purchase at least some small item such as a bulb or bottle of oil however that pays off greatly over the long run.
Again the Rocketa still has to have Florida excise tax, title fees (about $250) and sales tax so out the door prices both migrate up similarly so that is a moot argument and does not work. As a point of law in many juristictions even on an out of state on-line purchase if they do not charge you state and local taxes you are supposed to make a personal declaration to your state/county and pay them by the end of the calendar year. Yes many skirt that somewhat succesfully but technically you are still suppoesed to self declare and pay up.
Note that I have not followed your lead and ridiculed you with pithy quotes, etc or lowered the bar of decorum so please stop going down that road.
Rocky if you can get a good deal on a piaggio scooter fine, if the local dealership has become your social club, also fine. But please don't sit there and try to make me believe that a Chinese 50cc scooter is going for $1500 samolians (!) it just won't wash. Do I think you you got a fine machine at a very good price? Yep. You did very well for yourself, but a true comparison would be in what you would normally pay for such a machine and not against a Chinese scoot. And that should be enough satisfaction for anyone.
What does it hurt to look and be open to possibly picking up what appears to be the impossible deal of a century and be riding a bike so far above and beyond what you thought you could afford in your wildest dreams? People who listen to you won't bother and will never get the chance while those that follow my lead could end up like me riding the bike of their dreams for ridiculasly little out of pocket and final cost. When I got mine it was like this can't be real and there has to be a catch floating around in the back of my mind (maybe a bit more to the front) until they handed me the keys and I rode off. At the time I did not have enough available cash available to purchase a Chinese bike either so you can't say it was because of my great wealth that this appeared affordable to me. It was actually the very first time I had been to that dealership which I had happened upon on a test ride after yet another repair on the Lance. I was riding by Parts For Scooters to touch base on how the repairs with their parts had worked out but they were already closed for the day. I really stopped at the Aprilia Dealership afterwards mainly to make use of their washroom and just fell into the deal when to be polite I checked out their bikes and parts counter to pay back a little something for using their water, soap and paper products.
I say take a chance at the brass ring since you have very little to loose, don't be a defeatest. It could happen to anybody however you do have to get out of the chair and away from the keyboard to make it happen. The very positive experience can then stay with you for very many years.
Local prices are what they are. I did not cherry pick and just walked into a Chinese clone scooter store. The did have a sign on the 50cc bike warning buyers not to be fooled into thinking a $499 Internet Special was just as good. I did see a $999 loss leader 50cc Chinese bike today however the quality was more on par with the $499 Internet Special with no oil filter, carb instead of fuel injection, lower quality styrene plastics instead or ABS or Polyprypolene, more pot metal instead of cast aluminum, etc, etc, etc.