Post by urbanmadness on Feb 16, 2014 5:43:28 GMT -5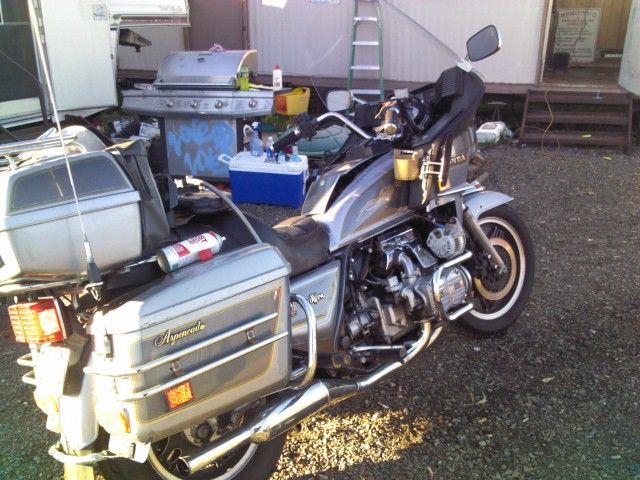 Got my first Real Motorcycle last night.... It was an epic journey....
I traded my lil' red 150 for an 82 honda Goldwing Aspencade... yup, that's right... My first motorcycle is a 1100cc Goldwing... I know... ambitious but I do have an Aprilla Scarabeo 500, I bought a week ago and it's a real heavy bike (400 plus pounds) and the Goldwings feel better balanced then the Scarabeo.
So that's three bikes since November... Holy moly....
Anyway, on to the epic journey and story.
My buddy Matt wanted my 150 but didn't have what I was asking. He did manage to find a Goldwing and he knew I wanted a Goldwing, but I of course didn't have the money for the wing, especially after buying the Scarabeo. The Wing has new tires, new fork seals, new tires, new brakes, new timing belt, and new clutch plate. It also has the External alternator mod. 1100 wings tend to eat stators and to change it, you usually pull the engine and the stator, assuming you can find one is expensive, so this is a common mod and it actually looks kinda cool having a motorcycle driving an alternator off the crank pulley.
I'm thinking, my wife is gonna kill me. But sometimes you just fall into these things and you got to act before you think "should I, or shouldn't I"
I live in Sacramento, and the bike was in Oakland, about
miles away. Matt hands us the money for the wing and me and my buddies pile into the car drive down to pick up the bike. My best friend Ray would ride the bike back, as he already has a Wing and is an experienced rider. This all goes without a hitch. The plan was, to get out of the bay area, fill the bike up with super, and be home in time for our weekly dinner at Denney's, in Roseville. The bike would spend the night at Ray's place until I spent a little time getting familiar with the bike. Then in a week or so, I would drive it home.
Well, about 20 miles into the trip back, the bike decides to get an attitude. We lost two cylinders, Making the bike un-drivable so, ray gets off the freeway and parks it, and calls us to let us know where he is. It's 7:30pm at this point and we break out the tools to see if maybe something came unplugged in the ignition system. We spend about an hour, trying to figure out what went wrong, we lost spark on #1 and #3 cylinders, so the right side of the motor doesn't have any spark. Bad coil or CDI module is the diagnosis. We decide to call Cody, another friend of ours, to get Ray's truck and trailer so we can get her back to the Ray's place. I put the bike back together and get it ready for transport. Mean while, we leave Ray with the bike, and get coffee and burgers and bring them back to our improvised picnic and begin the task of waiting for our Friend. We play around with the bike while we wait, checking out all the various compartments, and bags and find out it is equipped with a CB, along with the stereo and an intercom system. Looking at the bike and talking about what to modify, how we should paint it, we even found an pair of gloves and the original owners manual for both the stereo and the bike. My wife calls, tells me I'd better not be buying another bike because there's no more room in the garage. I tell her no, I didn't technically buy another bike, I traded the red bike for a Goldwing. She says what she always says, "stay safe, I don't care what you do with it as long as you build something cool". Good, I'm cleared with the wife.
Cody finally shows up at 2am, we load the bike and start the long journey home. Finally pulling into Roseville at about 3am. I finally get to bed at 4:30 after telling my wife about the bike and how much I love her.
I really do have an awesome wife and a great bunch of friends, and getting this Goldwing would not of happened with out them.